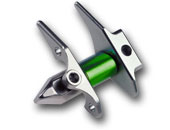 The X-STOP®:

Revolutionizing Spinal Stenosis Surgery
This non-fusion spinal stenosis back surgery is minimally invasive, takes about an hour, and is usually done outpatient. It is easy on you and the family as well as clinically effective and FDA approved.
Nothing speaks louder than personal experience.

Most of our patients are over 50 and the X-STOP® is allowing them to become active again not only with their families, but also with their "physical" health...