X MARKS THE SPOT FOR ENDING SEVERE BACK PAIN FOR A
LOS ANGELES TRANSPORTATION SUPERVISOR
---
Ever since her car accident, Josie Medrano has suffered from excruciating back and leg pain so bad that it kept her from playing with her grandchildren and sometimes from work. The Los Angeles resident could not take pain medication while she was at work so when she had to drive a bus; every bump was very painful. She suffered from spinal stenosis, caused by shrinking in the spinal canal that pinches the nerves.

"I have lived with 24/7 pain and numbness," said Josie, 50, a transportation supervisor for the Los Angeles Unified School District. "It was affecting my personal life because I was either grumpy from the pain or tired from the medication".

Josie talks about her experience with Lumbar Spinal Stenosis and how the X-Stop®
treatment improved her life.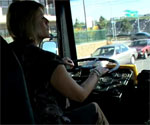 Josie had been through months of physical therapy with no improvement. Her Health Plan Doctors decided that she needed surgery. Josie was referred to Dr. Hamada. Dr. Hamada explained to her what was causing the pain and the procedures that would relieve the pain, (a lumbar laminectomy and the X-STOP® device).
Almost immediately after surgery, Josie's toes were no longer numb, the pain had diminished, thanks to the X-STOP®, a titanium implant that opens up the space in her spinal canal. The device "jacked up" and maintains the space in her spinal column. The X-STOP® was inserted into the vertebrae through a 4-5cm. incision while she was lying on her side with her knees to her chest to mimic a sitting position. The procedure is hailed as an effective alternative to the traditional major spine surgery approach for her condition. Josie said "I can play with my grandchildren again or go to Disneyland and walk around with the kids again". Josie finished by saying: "I am very pleased with the results and would recommend this procedure to anyone".
The X-STOP® implant procedure is a simple, less-invasive approach to treating severe back pain. Many patients, like Josie, usually notice an almost immediate improvement. Once X-STOP® back surgery is performed; most patients may be immediately relieved of pain and able to walk the same day.
To learn more about IPD and the X-STOP® solution for spinal stenosis, go to the next page>>